It's over
It's 2023, and there's next to no interest in the Electronic Entertainment Expo. E3 has been canceled. The exhilarating conferences are over. The epic moments are over. The hilarity of bloopers on stage is over. E3 is a trade show that was like Christmas for video game fans, and, sadly, it appears to be all gone.
Still, there once was a time when essentially everyone in the gaming community came together and looked forward to the exciting games ahead. It was an event I've always wanted to go to, but I just missed my opportunity. It's something I'll always regret, but at least the VODs of past streamed conferences are memorable. Here are 10 of my favorite E3 moments from the event's history.
Miyamoto's Master Sword entrance
One of the most iconic E3 moments comes from the creator of The Legend of Zelda Shigeru Miyamoto. This is the first true time I saw the memorable game designer. His enthusiasm and grandiose pose as Link with the Master Sword is still special to this day. It's been implanted into everyone's memory and is part of E3 history. The crowd was on their feet, exhilarated for the announcement and to see Miyamoto present. You can tell how much passion he has for the project in this video. That personal connection between the developer and the crowd is far more effective than a Nintendo Direct these days. I miss it.
Reggie's body is ready
Cheesy humor is usually a miss at E3 shows. It leaves all of us gritting our teeth. When former Nintendo of America chief operating officer and president Reggie Fils-Aimé said, "My body is ready," however, it was endearing. With no hesitation, Reggie said the line and made us enthusiastic for a plastic board; it felt so human from such a corporate presentation. It reflects Nintendo's willingness to get weird and connect with its fans. Now, it's a part of Reggie's legacy at the company and in fact, the line was cheered at E3 2012 when he referenced back to it five years later. It's one of the best E3 moments just from how funny it is.
The PlayStation conference orchestra
As PlayStation was nearing the end of its spectacular E3 conferences, the company began to include a fantastic orchestra to coincide with its grand announcements. God of War was announced with a live orchestra led by Bear McCreary. It builds the tension of the announcement and set the stage for Kratos' new Nordic duology. As a lover of video game music, I appreciated the focus on the grand God of War theme. Music is an important element of games and can raise the stakes in action scenes or make us connect to an emotional scene. In this instance, the orchestra gave every trailer a gravitas that wasn't there before. It felt grander. It's a feeling that hasn't been replicated in the pre-packaged, digital State of Play streams.
Other performances like the musical introduction to The Last of Us Part 2 by Gustavo Santaolalla and the flute performance from Cornelius Boots for Ghost of Tsushima are also special moments we remember from E3.
Wii Music Catastrophe
Sometimes, the best E3 moments are not always the most successful. There's the grand orchestra performance from PlayStation, but you can also watch the spectacular failure of Wii Music's demo on stage. It's hilarious as you see Miyamoto and other Nintendo staffers playing music awkwardly with the Wii remote and nunchuck. The drummer is also weirdly psyched. His drums alongside the made-up musician group play an offbeat version of the 1-1 theme from Super Mario Bros. It sounded pretty awful. Even I, a kid at the time, thought this was dreadful, and looking back, it's become one of the funniest blunders in Nintendo's history. Even the best have their slip-ups.
Konami's embarrassing E3 presentation
Unfortunately, there are no words to describe how laughably awful Konami's E3 2010 presentation is. It has to be seen to be believed. There are Mexican wrestlers who go off-script and almost choke out the presenter. There's a "so bad it's good" script that brings a smile to your face. An awkward man is staring deeply into the back of another prisoner's skull with intensity. And there's some abysmal dancing with a Kinect game.
It's arguably the worst E3 presentation of all time, but it's so hilarious that you can't miss it. It makes me somewhat resent the polished and clear messaging that a pre-recorded show provides. I loved the unpredictability of live E3 presentations, and there's a human element that is lost from the scripted affair of today's live-streamed updates. The excellent supercut by Crowbcat is the best way to watch the Konami presentation. All you'll say is WOW.
Kojima's return
One of the most groundbreaking entrances in E3 history is Hideo Kojima's return. After having issues with Konami and being reportedly forbidden to appear at The Game Awards for his award for Metal Gear Solid V, Kojima's E3 2016 entrance is amazing.
The grand orchestra played "Brothers in Arms" from the Mad Max: Fury Road movie just for him. Furthermore, he walks down a simulated white staircase with his company's logo behind him. Kojima's the man during this entrance, just like The Rock entering a WWE match. I'm not a Kojima fan and even I was hyped as hell after the drama the developer went through.
He then followed through with the announcement of Death Stranding, a trailer that intrigued his fans and left more questions than answers (which is expected from a Kojima game).
No, you're breathtaking
You know it's a big E3 moment when it gets shared across social media and outside of the gaming bubble. During Xbox's E3 2019 conference, Keanu Reeves stepped out, following the reveal that he would play Johnny Silverhand in Cyberpunk 2077. There was already hype surrounding the game. Everyone in the audience was ecstatic that a charismatic actor like Reeves is in the cast. It was also a rare surprise, as big reveals can be tough to keep under wraps headed into E3.
Someone in the crowd said that Keanu Reeves was breathtaking, and Reeves replied in a cool manner, "You're breathtaking!" It was so personable and made us love Reeves even more than we did before. It's a moment that was shared millions of times throughout the world. Unfortunately, Cyberpunk 2077 didn't launch in the best state, but his major role as Johnny Silverhand is certainly one of the game's biggest strengths.
The charisma of Kevin Butler
During the PS3 era of gaming, there were few other marketing icons as charming as Kevin Butler. Jerry Lambert's character was silly, charismatic, and spoke well as the most popular wrestlers in the WWE. He was the pseudo-corporate personality that helped bring the PS3 to strength. He helped advertise the important price drop to $299 and made consumers understand "it only does everything."
His E3 2010 speech is a flurry of gags. For five minutes, he spoke about our love of gaming. He tells us about having a ridiculous huge TV in a tiny one-room apartment and staying up until 3 a.m. for a trophy that isn't real (but is). The crowd was so into it. It was also hilarious how he made fun of Ubisoft's elaborate Just Dance routines.
The PS4 used games video
There is a reason why I keep relating the WWE to E3 press conferences. There's nothing more special than having a connection with your fans, and PlayStation absolutely was the face (hero) of the conflict against the heel Xbox. In 2013, there was fear in the gaming community. The Xbox One wasn't going to let you share physical games, and games had to be authenticated online. PlayStation gave their rival a one-two punch during that E3.
In a short 22-second tutorial video on how to share your games, PlayStation simply had Shuhei Yoshida pass a game to Scott Boyes with the latter saying thanks in a funny tone, looking at the camera with a smile. It is still hilarious to this day and has been viewed over 19 million times on YouTube since. It shows how PlayStation was in tune with its audience in those days.
The announcement of used games support also made the crowd go crazy during their press conference alongside the $100 cheaper price for the PS4. It felt like PlayStation won the generation before it even started. PlayStation was on top of the world with games people cared about (excluding Knack) and thankfully, no word of any cable TV integration that Xbox had a weird obsession with.
Davide Soliani tearing up over Miyamoto speaking about Mario + Rabbids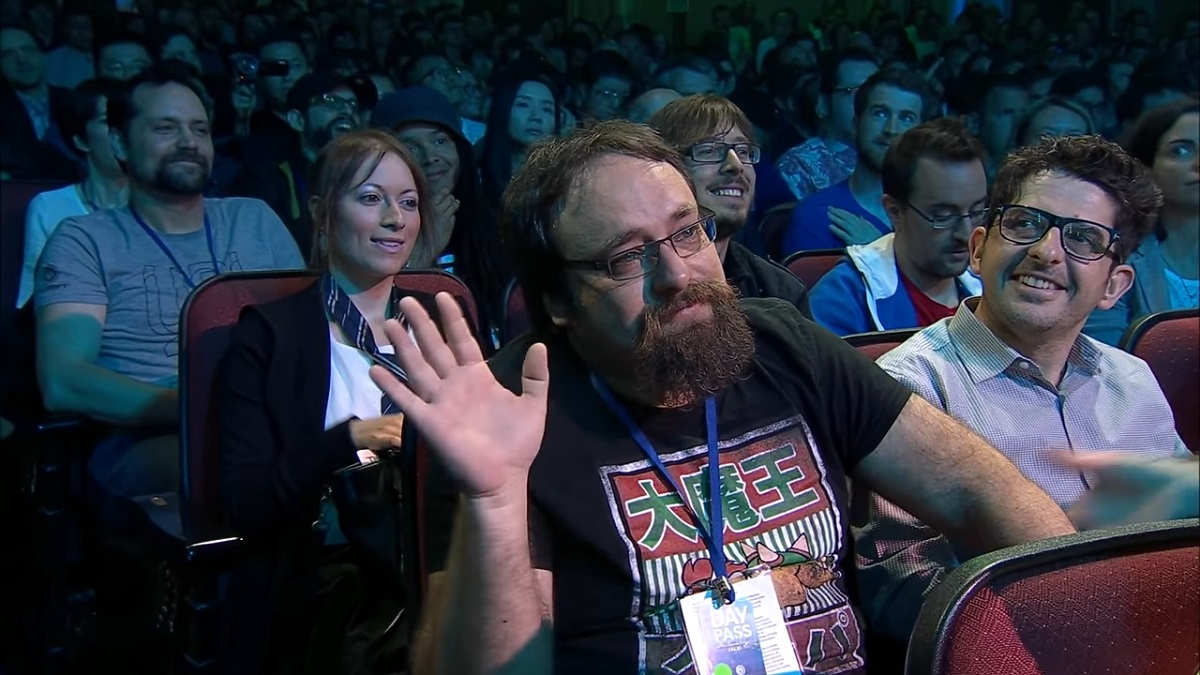 99% of the time, E3 feels so corporate. Marketing takes precedence over the event. As a result, when there's a genuine human element though, it stands out. Mario + Rabbids: Kingdom Battle director Davide Soliani teared up as Miyamoto spoke about his game during Ubisoft's conference. It was such a special moment. Miyamoto shouted him out on stage, cutting to the shot above.
"I said, 'whatever you do, don't make a jump game or a Mario platformer'" said Shigeru Miyamoto. "Try to make a Mario game that has never been made before." Soliani and the team at Ubisoft did that and succeeded. Miyamoto called it great during the Ubisoft conference. And it gave us a rare and unscripted moment of genuine human emotion, reflecting the passion that has always been tucked away at the heart of E3.
The post Let's take a look at 10 of my favorite E3 moments appeared first on Destructoid.